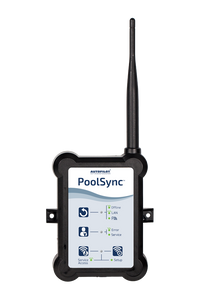 AquaCal PoolSync WiFi Controller - ECP0343
Effortlessly control PoolSync Ready equipment through the simple phone app. Whether at home or on the road, always be in sync with your pool.
Dashboard:
Quickly view your system status on this concise dashboard. 
ChlorSync:
View the current salt level and water temp and adjust the chlorine output as needed. 
Heat Pump: 
Adjust the mode and temperature setting in the blink of an eye. 
Scheduling: 
Create schedules to automatically adjust your settings. 
Note:
For new PoolSync Ready models with HP9 boards only - Super Quiet 3/2019 or later, Tropical 7/2019 or later. Also for ChlorSync CS30, CS40, CS50 Electronic Salt Chlorine Generator.

Warring: Will not work for the older model without the STK0225 HP9 upgrade kit.

Please make sure you have a good WIFI signal at your heat pump location before ordering.
Brochure:
Manual:
Warranty:
---
We Also Recommend