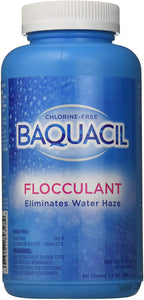 Baquacil Flocculant (1.5 LBS.) - 84398
BAQUACIL® Pool Maintenance Products - Designed to help restore water clarity, control metals, clean filters and surfaces, and much more.
BAQUACIL® Flocculant
An iron-free aluminum sulfate compound used to treat persistent haze. Used for years by municipal water authorities, this product treats cloudy conditions and clarifies swimming pool water.
---
We Also Recommend