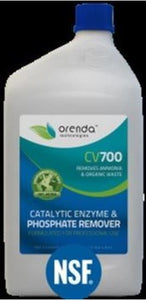 Orenda Technologies CV-700 Enzyme + Phosphate Remover, 1-Quart Carton - ORE-50-220
CV-700 is a unique, stabilized enzyme formula with a phosphate remover blended in. It effectively breaks down and removes non-living organics (bather waste) and oils from water, while also reacting with phosphates in water. CV-700 is one of our most popular Orenda Products amongst service technicians and pool owners.
Removing bather waste is critical for pool maintenance,  as such contaminants would otherwise need to be oxidized by chlorine or a secondary oxidation system. Removing bather waste is so important, it is our Second Pillar of Proactive Pool Care.
Phosphates cannot be oxidized or removed by chlorine, so you need a phosphate remover to get rid of them. Removing Phosphates is our Third Pillar of Proactive Pool Care. While CV-700 is a significantly weaker phosphate remover than PR-10,000, it serves a purpose for simplified maintenance.
Routine application of CV-700 will help maintain water clarity, and reduce both non-living organics and phosphates.
For more information, please visit the following link: 
---
We Also Recommend