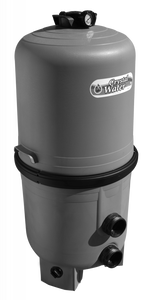 Waterway Crystal Water 36 Sq. Ft. D.E. Filter (Requires Backwash Valve - Not Included) - 570-0036-07
LOCAL PICKUP ONLY. CALL TO ORDER.
Designed for today's most demanding installations, the Crystal Water D.E. Filter sets the standard of performance and features for pool filters. The only D.E. filter on the market with 2 1/2" internal piping, improves flow and reduces system noise when using 2 1/2", 2" or 1 1/2" plumbing. From the lid with the "Multi- Handle" design to the 2" bottom clean out port, the Crystal Water D.E. Filter will provide years of trouble-free operation and crystal clear, sparkling water.

Features:
NSF Listed
2 1/2" internal piping
Fiberglass reinforced polypropylene body for superior strength
"Multi-Handle" design
Heavy-duty tamper-proof clamp
Industry-proven D.E. grids
"Start-Service" dial on stainless steel pressure gauge
1 1/2" bottom clean-out port
2 1/2" hi-temp PVC slide valve available
2 ½" x 2" Multi-Port Valves – available in Slip or FPT
Convertible to cartridge by simply changing internals
Gallons per Minute = 72
Backwash valve is not included - 600-1500
Required:
Designed, Engineered, and Manufactured in the U.S.A
---
We Also Recommend